THIS FAMILY HISTORY IS A WORK IN PROGRESS AND IS DEDICATED TO ALL GOTTSCH FAMILY MEMBERS PAST, PRESENT AND FUTURE.
To enter our family history site click the "Gottsch Family History Portal" link at the bottom of this page.

Note: This site contains German and Danish spellings. In order for the pages to display properly you may have to add these languages to your internet browser. Instructions for adding languages.
---
Family Name:
The earliest documented spelling of the family name was in the Schönberg parish marriage register with the recorded marriage of Peter Gotsch born in 1683, and Gretje Lage on October 16, 1705. Records dating back before the advent of civil registration are often discovered using the history of names and marriages documented by the church. Over the next four generations the spelling of the family name changed depending on how the minister or church scribe entered births, marriages and deaths. Finally in the mid 1800's the church standardized the spelling of family names being entered into record, and the family name became Göttsch which translated to Goettsch in English. Over the years the pronunciation of the family name has varied with each family group. The correct pronunciation in German is "Gut-sch" with a short "u" sound.
I have decided for this recorded history of the family, I will use the birth names entered into the parish records. As you read each generation the spelling of the birth name may change, even within the same family group. Some of the most common variations of spelling are: Gotsch, Götsch, Göttsch, Göttsche, Goettsche, Gottsch, and Goettsch.
Some members of the family dropped the umlaut over the "o" for the current spelling Gottsch; others adopted the English spelling of the name and variations thereof when the families immigrated to the United States in the early 1850's.
---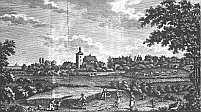 "Schönberg in Holstein"
by aus dem Reisebericht Taillefas
Brief History: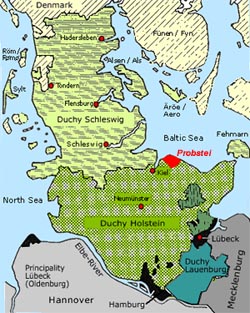 Genealogical research has shown that the Göttsch family is from the Probstei province of Duchy Holstein. The history of the Duchies of Schleswig and Holstein, and the complexity of the region are very hard to understand. To better understand the history, please read History of Schleswig-Holstein.
The combined Prussian-Austrian army defeated Denmark in 1864, the latter losing its duchies to Prussia. Prussia warred with and defeated Austria (Austrian Empire) in 1866, thereby cementing its control of north Germany. The German Confederation, of which Prussia had been a key member, was then dissolved, being replaced by the North German Confederation in 1866/1867, with Prussia now the strongest member. Then in 1871, the North German Confederation was transformed into the German empire.
The term German Empire commonly refers to Germany as a nation-state from January 1871 until the overthrow of Kaiser (Emperor) Wilhelm II of Germany in November 1918. Its German translation is Deutsches Reich, which was the state's official name (and continued to be until the end of World War II in 1945).
Probstei province Probsteiers was a small area east of Kiel, and 10 miles north of Preetz in Duchy Holstein (Maps). The parishes were Schönberg and Probsteierhagen and included the villages of Barsbek, Bendfeld, Brodersdorf, Fahren, Fiefbergen, Gödersdorf, Höhndorf, Krokau, Krummbek, Laboe, Lutterbek, Prasdorf, Passade, Probsteierhagen, Schönberg, Stakendorf, Stein, Wendtorf and Wisch.
The Probstei was a very special region, mostly because it did not belong to any aristocratic family but to the church. Nearly everywhere else peasants lived in bondage - not so in the Probstei. The people were free farmers, even if the church owned their land. They were allowed to marry when and whom they wanted, they were allowed to pass on their farm to their children without having to set aside part of it for the aristocrats - they had a lot of privileges people outside the Probstei only could dream of - if they even dared to do so...
All this resulted in the Probstei people regarding themselves different from everyone else, even those living only 10 miles away, outside the Probstei. Marriages between Probstei people and "outsiders" were very, very rare. Those living within the Probstei were wealthy compared to others, and preferred not to mix with people outside their area Probstei Life 1903. And because of this special traditions developed.
One of the traditions is the way they named their children. The influence of the tradition totally dominated the naming from the 17th to the mid 19th century. In the Probstei certain rules were handed down concerning the choice of given names to newborn children. These rules formed a quite constant pattern:
The first son is given the name of the paternal grandfather.
The first daughter is given the name of the paternal grandmother.
The second son is given the name of the maternal grandfather.
The second daughter is given the name of the maternal grandmother.
The third son is given the name of his father or one of his brothers.
The third daughter is given the name of her mother or one of her sisters.
Nearly every family strictly adhered to this pattern, thus securing a relatively consistent collection of given names within each family. If a young child died, the next child of the same sex was given their name. By doing so, they avoided old traditional family-typical names from dying out.
The name Göttsch was very common in the Probstei region and although linked by name not all were related. This genealogical history documents the Peter Gotsch family of Schönberg, who was born in 1683, and his descendants after an extensive research of village and parish records. Research has shown that our Göttsch families were not wealthy land owners, had no family crest, but were Arbeitsmann or Instmann at or near the bottom of the "social ladder".
Peter Gotsch married Gretje Lage on October 16, 1705 in Schönberg, Dutch Holstein, and had three documented children; Peter* born 1707, and twins Clas and Margrete born January 7, 1713.
Note: Because the church book entry is ambiguous, and lacked definitive proof we have listed Gretje Lage as Peter's wife based on the following. 1) There was only one marriage for a Peter Gotsch between 1703 and 1707 when the church started keeping records, and the year his first child was born, that marriage was to Gretje Lage. 2) We followed the traditional naming pattern of their children at the time, as explained above.
*Peter born July 10, 1707, married Anna Dorothea Schmidt. Peter and Anna Dorothea lived in the town of Schönberg. Research has shown that the family were small farmers or day laborers. Peter and Anna Dorothea had seven children; Gretje, Peter, Johan*, Catharina (Trin), Dorthe Lischen, Jacob and Hans.
*Johan born November 30, 1739 married Sielck Röhlck on November 8, 1764 and they had seven children: Peter, Hinrich, Clas, Dorte, Hinrich*, Beck, and Jochen.
*Hinrich, born December 2, 1775, married Elsch Schoel and they lived in the Schönberg parish village of Fiefbergen, in 1800. Hinrich was a Halbhöfner (small farmer) at that time. Hinrich and Elsch had twelve children; Sielke, Johann*, Claus*, Gretje, Hinrich, Hinrich, Antje*, Becke, Peter, Catharina (Trin), Jochim*, and Hans*. By 1835 the family, now only Hinrich and three of his children; Claus born 1800, Antje born 1809 and Jochim born 1815, had moved to the village of Gädersdorf, now spelled Gödersdorf and he worked as a Arbeitsmann (laborer).
At some time shortly thereafter Hinrich's son, Claus (Gotsch) Göttsch, now 36 or 37 years of age, moved to Tårnborg parish Sorø, Denmark where he married his first wife Trine Stahl on December 4, 1839 and worked as a Boelsmand (farmer). Trine was the daughter of Asmus Stahl and Gretje Dittmer. Claus and Trine had two children, Gretje born July 1840 and Heinrich born November 1842. Trine Stahl died in June 1843. No records for Gretje have been found at this time, and it is presumed she died as a child.
In 1844 Claus married his second wife, Bertha Catharina Schneider (born Jöhnk), whose husband, Claus Peter Schneider, had died in 1837. Claus and Bertha Göttsch had three children, Peter born April 1845, Carl (Charles) born August 1846 and Louisa born July 1850. In 1851 Claus, Bertha, their children, Claus's son from his first marriage and two of Bertha's children from her first marriage departed Tårnborg parish and relocated to Kirke-Stillinge parish. In 1853 they travel to Kiel, Duchy Holstein then immigrated to America from the Port of Hamburg aboard the Brig "Anna Elise" (Brig Sailing Ship) - Brig "Anna Elise Manifest". The family arrived at the Port of New York on June 27, 1853 and traveled to the large German settlement at Davenport, Iowa arriving there sometime in late 1853. The family lived in Scott County, Davenport, Iowa for a short period before moving to Nebraska in 1858, buying land in Douglas and Washington Counties to farm.
*Jochim and *Hans the younger brothers of Claus, fled to Sweden sometime after 1835 to avoid conscription into the Danish Army. There, Hans married Coralinena Lorenzen in 1851. They had two children born in Sweden, Wilhelm born in 1852 and Johanis born in 1853. Between 1853 and 1855 Jochim, Hans and his family, and Antje their sister immigrated to America. Hans arrived in the Port of New Orleans, where he worked until he had the money for the passage by paddleboat, north to Davenport, Iowa where his older brother Claus was living. Hans and Coralinena had nine children born in America; Emma Amelia born 1855, Mena born 1857, Louisa born 1859, Hans Frederick born 1860, Josephine born 1863, Julius born 1865, Gustave born 1867, Ferdinand born 1868 and Louis Carl born 1870. Coralinena died in 1870 giving birth to Louis, and Hans died in 1880 in Scott County, Iowa. Jochim died in 1893 also in Scott County, Iowa. The family Americanized the spelling of the family name to Goettsch and removed to Holstein, Iowa where their descendants remain today. What happened to Antje still is not known, she does not appear in the 1870 Iowa census and she may have died prior to 1870.
*Johann (Gotsch) Göttsche, the older brother of Claus, married Dorathea Christina Rebehn and had eight children: Hinrich Wilhelm Christian, Catharina Maria Henriette, Claus Hinrich, Dorathea Margaretha Henrietta, Friedrich Johann Christian*, Hinrich Detlef, Margaretha Magdalena Johanna, and Lucia Margaretha Henriette.
In April of 1885, twins, Emil Johannes and Heinrich Julius Göttsch the sons of *Friedrich Johann Christian, and his wife Antje (Puck) Göttsch immigrated to America at age 15, and worked as farm laborers in Davenport, Iowa. In 1890, Friedrich Johann Christian and his remaining family, consisting of his wife; Antje, daughters; Emma Adele, Helene, Dorothea, and a nephew; Wilhelm Gottsch immigrated from Hamburg, Germany aboard the steamship "Auguste Victoria" - "Auguste Victoria Manifest" arriving at the Port of New York on April 26, 1890. After traveling to Davenport, Iowa, Friedrich Johann Christian gathered his family together and joined his uncle's family in Bennington, Nebraska to make a new life in America.
---
Ancestral Home Photographs:
The following pages contain photos of the Gottsch family ancestral home sites. Howard Maahs took some of the photographs on his last visit in 2003, Suzanne, the family reseacher and I took the rest on our trip in September 2006. The photos will provide those of you, who may never get the chance to visit our ancestral home, a glimpse of where our family originated.
Ancestral Home Photographs
---
I have been asked why I started this genealogical history of my family, many times. When my father passed away in 1996, I found three old photo albums with photographs of my ancestors. Some of the photos had names written on them, most did not. Now that I was the patriarch of our branch of the Gottsch family, I felt it was very important to document the family and our family history for my children, their children, and the many generations to follow.
I want to thank everyone who provided dates and other information that helped me develop this family history. A special thank you to: our German researcher who spent 8 months documenting the family, Howard Maahs, Russell Wilt, Klaus Göttsch and those who contributed research and family information.
William R. Gottsch
---
Göttsch Family Crest
On my last trip to Germany in June 2011, Klaus Göttsch, a direct line cousin showed me an image of the Gottsche Crest that was assigned to the Göttsche family in 1931. Along with the crest was an invitation to attend a "Göttsche Family Day" to be held in June 1937, that was sent to his grandfather. Klaus was kind enough to share his research and the history of how this crest came to be. Although this crest was designated as the official "Göttsche Family Crest" by the then German regime, as your read the history please keep in mind the mind set of some of the German people at that time.
The invitation is in German, but I have included the English translation.
"Göttsch Family Crest"
---
Göttsch Family DVD
A DVD data disk of the entire family history is available for sale. The disk includes: a recent Genealogy Report 254 pages, 1,000 images of church parish records dating to 1703 with German entry and English translation, Table of Contents, Introduction, History of Schleswig - Holstein, Family photographs, 858 photos of the Probstei and surrounding area, and much more. Please, only verified family members will be allowed to purchase the DVD. To inquire about purchasing a disk e-mail:
bill@gottschfamily
The information contained on the disk is for personal use only, and is not to be published, sold for publication or profit by any person or company.
---
If you are a Gottsch family member or have relevant information as to dates, photos and or stories please E-Mail me at bill@gottschfamily. To enter our family history site click the "Gottsch Family History Portal" link at the bottom of this page.

I have made an Edit page so you will be able to see which generation pages have been edited and the date of change and a Surnames page listing all the names associated with the Gottsch family.

To print a copy of the Gottsch Family History site toggle the print tab at the bottom of each page.
---
These photo albums belonged to my great grandparents and contain photos of ancestors that have not been identified. If you can identify a photo, mouse over the photo to obtain it's number than please e-mail me with the album number, photo number and the identity of the person or persons.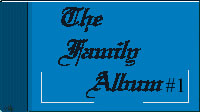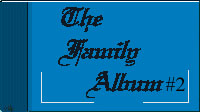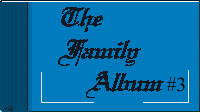 ---
Some Great Nebraska, Gottsch Families and Genealogy Links

  Douglas County NebGenWeb                                      Bennington Historical Society                        Historical Society of Douglas Co.

  Washington County Historical Society                        Nebraska State Historical Society                  Immigrant Passenger lists                             

  Genealogy Schleswig-Holstein                                   Genealogy Research Schleswig Holstein      Heidi Goetsch Family Web

  Robb & Angie Gottsch Family Web                             Robert & Stacie Gottsch Family Web             Hans A. Götsch Family Web    

  Timperley Family Web                                                  Faust (Koch-Paulsen) Family Web                  Krepela Family Web                                                   
 
  The Club at Indian Creek                                             EllaBella Photography                                  




Gottsch And Other Extended Family Genealogies

 
  Peter Göttsch 1520 Genealogy                                    Hinrich Gotsch ca. 1570 Genealogy               Paul Gotsch ca. 1667 Genealogy
                                    
  Claus Götsch ca. 1640 Genealogy                               Dornacker Family Genealogy                         Witt Family Genealogy 
 
  Puck Family Genealogy                                                 Jipp Family Genealogy                                   Timperley Family Genealogy

  Jöhnk Family Genealogy                                              Jansen Family Genealogy                               Misfeldt Family Genealogy
 
  Gorton Family Genealogy                                             Wilt Family Genealogy                                     Melvin Family Genealogy
                                    
  Schneider Family Genealogy                                       Fockler / Fackler Family Genealogy                                                        

  Burghardt/Burgett Family Genealogy                         Timberman Family Genealogy                        Hotze Family Genealogy 
                         
  2004 Reunion Photos                                                    2006 Reunion Photos


---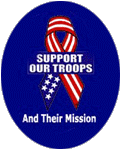 We want to show our cousins and their brothers and sisters in arms our appreciation and support for their continued service, sacrifice, and duty.
The following pages document some of those serving in harms way.







Our Troops in Service


Your thoughts and opinions are appreciated so please take the time to view and sign our Guestbook before leaving, so we may know who have visited!


If you are unable to find your page or complete your search, please email me and I will be happy to help.

The web page designed and created by William Gottsch
bill@gottschfamily

Web Site Updated December 5, 2015
Copyright © 1999 - 2020 William Gottsch.
All rights reserved