Specialist Joshua Pape
---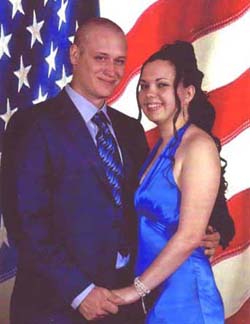 Specialist Joshua and Jessica Ruttgers Pape.
Joshua Pape, the son Diane Marie Wilt and Dennis Pape is now serving his 2nd tour of duty for his country in the Anbar Province of Iraq. Joshua is a Specialist with the 3rd Infantry Division of the United States Army.
Joshua wrote, "I am an Information Systems Specialist. I make sure pretty much all aspects of communications are working for those who do go outside the wire. And I am also a satellite operator, which at times requires me to go out into the thick of it just south of the city of Ramadi. The conditions here are pretty crappy but we have what we need to survive fairly comfortably."
If you would like to send him a card or letter, his APO address is:
Joshua Pape
HHC 3BSB, 1BCT, 3ID
Camp Ramadi
APO AE 09396