LT. Justin Davis
---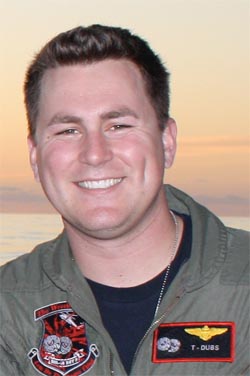 Lt. Justin Davis
LTJG Justin Davis is the son of Robin Goettsch and Robert Davis. Justin is a pilot in the United States Navy and flies a HSL 46 anti-submarine helicopter. Justin R. Davis is the 3rd great grandson of Hans and Coraliena Lorenzen Göttsch.
Justin recently wrote:
Well, it has finally happened; I, along with the rest of my Detachment "The Wreckin Crew" are sailing across the pond to the Gulf of Aiden and Gulf of Oman for anti-piracy operations with the USS Gettysburg. We will be making a short port visit to Civitavecchia, Italy in a little under a week and then we will be on our way. Our primary mission will be freedom of transit for all ships passing along the coast of Somalia and the Horn of Africa.
If you would like to send him a card or letter, his shipboard address is:
LT Justin Davis
Air Department
USS Gettysburg (CG64)
FPO AA 34091-1184