1LT. Matt Misfeldt
---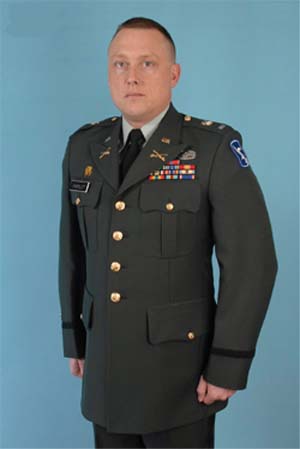 1Lt. Matt Misfeldt
1LT Matthew Misfeldt is the son of Ivan Gale Misfeldt and Camilla Schneider, and the great grandson of Henry Misfeldt and Adele Gottsch. Matt was married to Jennifer Ann Obal on September 17, 1995 in Omaha.
Matt wrote:
I enlisted 12 December 2002. Went to basic training in 2003 and received my Commission as 2LT in 2004. I was deployed to Iraq in 2005 thru 2006. My unit conducted combat missions in support of Operation Iraqi Freedom. A documentary of this deployment is available from Nebraska Public Television; a web link for previews is: http://www.netnebraska.org/extras/onthefrontline.
I am currently attending my Captain Career Course at Fort Knox, KY. I have been in command of Troop B 1-134th Cavalry in Fremont, NE since January 2009.
Decorations, Service Medals and Badges:
Combat Action Badge
Bronze Star Medal
Army Commendation Medal w/ Valor (with 1 Oak Leaf Cluster)
Army Achievement Medal w/ Oak Leaf Cluster
National Defense Service Medal
Iraq Campaign Medal w/ 2 service stars
Global War on Terror Service Medal
Armed Forces Reserve Medal (w/ M Device)
Army Service Ribbon
Army Overseas Service Ribbon
Louisiana Emergency Service Ribbon

Matt Misfeldt
1LT, AR
Commanding
Troop B, 1-134 R & S
910 N. Lincoln Avenue
Fremont, NE 68025