Family and Friends
---
Merry Christmas and a Happy New Year to all!
Another Christmas in Iraq. And one more to go before I can come home to stay. It is a hard thing to do, but it brings out strong positive emotions, too. Christmas cards and packages have come streaming in from the States. Family and friends, Sunday Schools, Churches, military service organizations, and groups of citizens who have banded together to demonstrate their support of the soldiers. Not a soldier is without a card and a gift from a supporting person back in the Great United States. The offices, unit mail rooms, and even the gun trucks all have stashes of candy sent in from home. We are also observing the Holidays with special Christmas meals, and the Company sized units are all having Christmas parties. We all sort of adopt one another as family for Christmas. Emotions run high during this season, and we all look out for one another. The chaplain sure does earn his pay, and our respect, for his ability to bring the world into perspective for the soldiers who carry more weight on their shoulders than they should have to bear.
I have attached three photos for you;
The first is my Christmas Card to you. I took the photo early in December in my little containerized housing unit (CHU, pronounced chew). As of today, you officially cannot see my tree, as all sorts of gifts have been piled up in front of it. I am looking forward to a little ceremony of my own on Christmas and a near-beer on New Years. Please know that I will be thinking of you all throughout the season. There is a lot to be thankful for, and it is easier to count blessings in a combat zone than anywhere else on earth.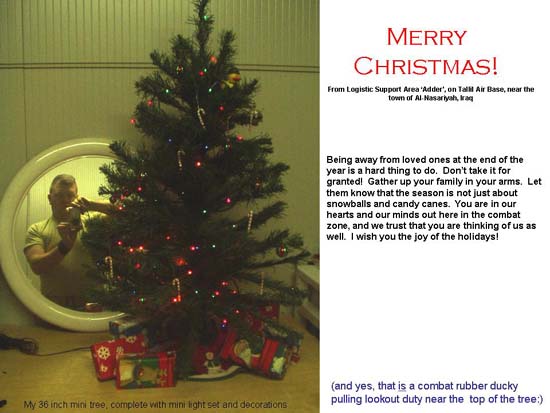 The second is of the area right outside my CHU that I have been cultivating and seeding with grass. It is coming up in tufts, and some areas better than others, but with constant watering, a clipping (with scissors) now and again, and some TLC, grass has a chance in the desert. Once it has established itself, I won't have to water it so often, and can begin to enjoy the lawn. The photo is not straight or at an angle that shows the grass to its best advantage. It is simply what I see as I walk out of my CHU in the morning. I included the photo as my analogy towards peace and democracy in Iraq. Patience and constant tending appears to have a positive effect, and if you view Iraq through a professional media lens, you are probably not getting the truth. You need to see it from an everyday non-sensationalized viewpoint.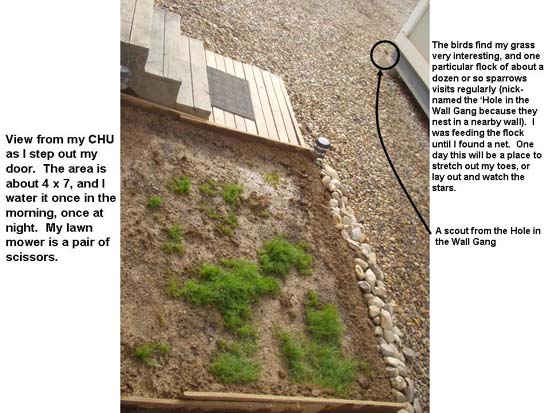 The third is of a small mouse in the office I share with seven other people. The office space is scarce, but will be getting better as we get into the New Year. I like the photo because it demonstrates that no matter how small, how hairy, or what country a being is from, we are all faced with the same challenges as we try to provide security and well-being for our loved ones. The mouse is up against having to live in Iraq in a superheated mud/dust pit, surrounded by predators and heavy boots, with very little cover and concealment. I wish our little mouse and his family well.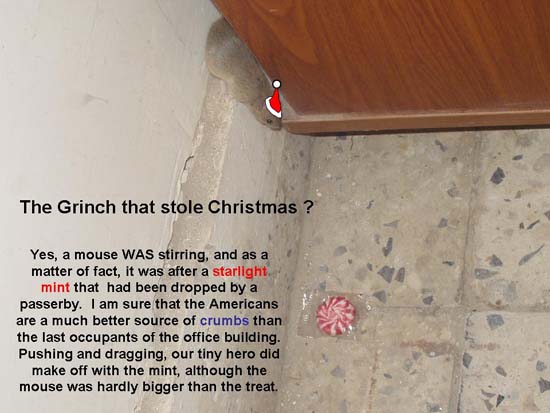 The fourth is of a group of soldiers that I passed Christmas Cards out to. The cards are from a Sunday School in Rhode Island. Kids aged from 6 to 15 hand colored and decorated cards. One six year old kid wrote; 'Don't give up!' over a picture of a plane exchanging gunfire with a ship. Not to worry. It is ingrained in a soldier to never give up. Many kids wrote thanking soldiers for; 'Saving our lives', Fighting for our country', and 'Fighting for our freedom.' For all the kids out there, the only answer I have is 'You are worth it'. One eight year old wrote; 'To a lucky someone in Iraq', then scratched out lucky and wrote in 'un-lucky'. The child was thanking soldiers for fighting, 'even on Christmas.' To that child I would say that we are only unlucky if we lack the love and support of our friends and family at home. From the daily overflow of the mail room, and from the smiles on soldier's faces, I don't think 'unlucky' is a term I would use.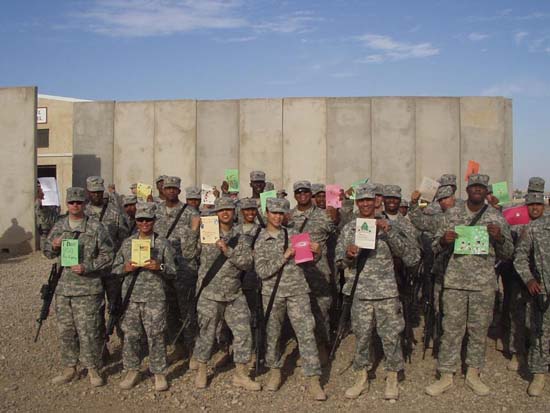 If you decide to mail anything my way, it will take a couple of weeks to get here.
The fifth and final picture was not taken around Christmas-time at all. It is a picture from Thanksgiving. I included the photo because I wanted you to know that we do care for each other out here, and we will adapt and make the best of our being gone for the Holiday Season. So should you.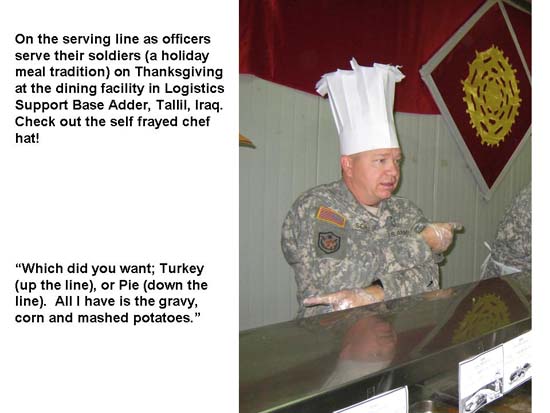 Hug your kids, kiss your sweethearts, and wish everyone a Merry Christmas for me. On New Years, have a drink, stay up late, and eat too much. Enjoy.
Love, Brad