Sixth Generation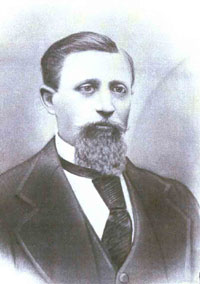 Hans Carl Frederick Jipp
44. Hans Carl Frederick6 Jipp (Claus5, Carl Paul Hinrich4, Claus Joachim3 Jep, Detlef2, Hinrich1 Jipp) was born May 28, 1844 in Satjendorf, Duchy Holstein. Hans died February 5, 1893 in Giland, Nebraska at 48 years of age.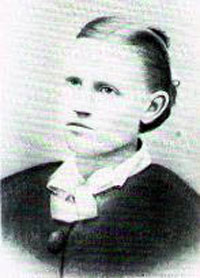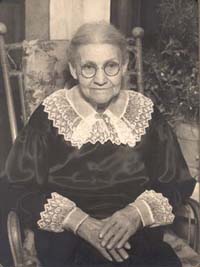 Louisa Sophie Margrethe Gottsch Jipp
He married Louisa Sophie Margrethe Gottsch in Ft. Calhoun, Nebraska, November 25, 1867. Louisa was born July 14, 1850 in Svenstrupmark, Tårnborg parish, Sorø, Denmark. Louisa was the daughter of Claus Göttsch and Bertha Catharina Jöhnk. Louisa died February 19, 1942 in Ft. Calhoun, Nebraska at 91 years of age. Her body was interred February 1942 in Fort Calhoun, Nebraska, Fort Calhoun Cemetery.
Note:
Hans Carl Frederick Jipp was born May 28, 1844 in Satjendorf, Holstein, Prussia. He emigrated to the United States and arrived at the port of New York aboard the clipper ship "John Bertram" in June 1862. In January 1865 he enlisted as a volunteer in the Union Army, agreeing to serve for one year. In September of 1865 he is mustered out with the entire regiment with a honorable discharge.
In April of 1867 he filed under the Homestead Acts of 1862 and 1864 for an 80 acre homestead. In November of 1867 he and Louisa are married. Over the next thirteen years they have six children. In August of 1880, Louisa filed a notice of abandonment of her and her children. In September of 1885 a Decree of Divorce was granted by the courts.
Hans moved about the state living in Johnson, Otoe and Thayer counties. In 1888 he files for a military pension claiming he suffers from heart troubles and rhumatism contacted from he service on the Platte River in 1885. In 1890 his pension is granted and he receives $12.00 a month. On February 5, 1893, Hans passed away in Gilead, Nebraska.
Hans Carl Frederick Jipp and Louisa Sophie Margreta Gottsch had the following children:
+ 45 i. Claus Henry7 Jipp was born October 26, 1868 in Ft. Calhoun, Nebraska.

+ 46 ii. Emma Louisa Jipp was born 1870 in Ft. Calhoun, Nebraska

+ 47 iii. Caroline Jipp was born May 19, 1873 in Ft. Calhoun, Nebraska.

48 iv. Charlotta Catherine Jipp was born September 18, 1874 in Ft. Calhoun, Nebraska. Charlotta died December 1938 Omaha, Nebraska, at 64 years of age. She married George Edward Hatcher in Omaha, Nebraska on April 24, 1898.

+ 49 v. Jessie Jipp was born March 20, 1877 in Ft. Calhoun, Nebraska.

+ 50 vi. William Carl Frederick Jipp was born October 6, 1879 in Ft. Calhoun, Nebraska.