Eighth Generation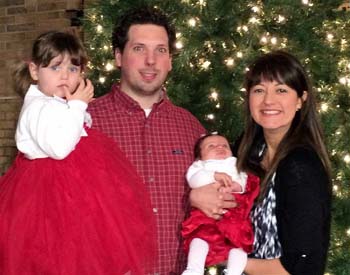 Robert Patrick, Teresa Claudell, Charlotte Ann and Eleanora Rose Couch
111. Teresa Claudell8 Van Hoozer (David Allan7, John J.6, Caroline Elizabeth5 Fockler, Caroline Jipp4 Melvin, Robert Stevenson3, John (Milby)2, William (Milby)1) was born in Kansas City, Missouri June 24, 1982.
She married Robert Patrick Couch in South Bend, Indiana, August 11, 2007. Robert was born in Mishawaka, Indiana September 23, 1983.
Teresa Claudell was named after her grandmothers.
Teresa Claudell Van Hoozer and Robert Patrick Couch had the following child:
122 i. Charlotte Ann9 Couch, was born August 23, 2011 in South Bend, Indiana.

123 ii. Eleanora Rose Couch, was born November 10, 2013 in South Bend, Indiana.

124 iii. Owen Patrick Couch, was born July 7, 2015 in South Bend, Indiana.