Eleventh Generation


864. Joseph Victor11 Cecka (Joanne Eilene10 Shackelford, Janice Eilene9 Fackler, James Wesley8, Leonard DeNice7, James Townsend6, William Benjamin5, Samuel Abraham4, Abraham Wendel3, Johann Wendel2, Abraham1) He married Kristen Lea Kohn 16 Dec 2000 in Turtle Lake, Wisconsin. She was born 25 Jun 1981 in Cumberland, Wisconsin.

Child of Joseph Cecka and Kristen Kohn is:
871 i. Kelly Jo12 Cecka, born May 15, 2001 in Rice Lake, Wisconsin.
---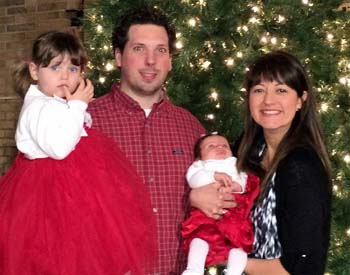 Robert Patrick, Teresa Claudell, Charlotte Ann and Eleanora Rose Couch
865. Teresa Claudell11 Van Hoozer (David Allan10, John J.9, Caroline Elizabeth8 Fockler, Claude Randolph7, Bert Thompson6, Elias Francis5, Wendel4, Abraham Wendel3 Fackler, Johann Wendel2, Abraham1) was born in Kansas City, Missouri June 24, 1982. She married Robert Patrick Couch in South Bend, Indiana, August 11, 2007. Robert was born in Mishawaka, Indiana September 23, 1983.
Teresa Claudell was named after her grandmothers.
Teresa Claudell Van Hoozer and Robert Patrick Couch had the following children:
872 i. Charlotte Ann12 Couch, was born August 23, 2011 in South Bend, Indiana.

873 ii. Eleanora Rose Couch, was born November 10, 2013 in South Bend, Indiana.

874 iii. Owen Patrick Couch, was born July 7, 2015 in South Bend, Indiana.